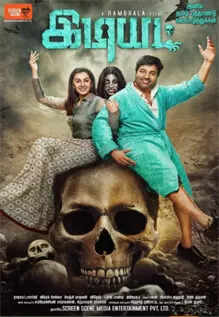 A horror-comedy created in a world of 'Idiots'
Rambhala, the director of Idiot, assumes that a horror-comedy is an easy genre that anyone could pull off, but he fails. From the start, the film is unsure of its position, oscillating between parody and comedy of errors. This hesitant attempt makes it a tedious watch for viewers, affecting the flow of the film. Known for his quirky Lollu Sabha-era dialogue, the director tries to do too much, which is not only regressive in places but also spoils the mood.
The film begins as a period drama with a royal family betrayed by their two underlings, Sethupathi and Senathipathi. Within minutes, we see Chinnarasu (Shiva) and his family, who reside in a village called Veerapandiyan. Chinnarasu often calls his father Rasu Gounder (Anandaraj) an idiot, due to his ignorance. We are then introduced to Smitha (Nikki Galrani), who is a doctor and runs a psychiatric hospital.
Later we learn that Chinnarasu and Smitha are descendants of Sethupathi and Senathipathi. Incredible footage brings them together and we see a reunion of ghosts at Zameen's mansion. From there, a chaotic ride begins, which is neither funny nor even engaging.
We also see another character, Neelakandi (Akshara Gowda), who wants to take Smitha's life to revive her lover. Neelakandi's flashback gets an extra release gap, but adds no value to the storyline. Whether or not Neelakandi will accomplish his mission forms the rest of the story.
From the start, Rambhala's comedy-horror comes across as a parody, referencing scenes from movies like Suriyavamsam, Ghilli, Endhiran, and even Vikram's teaser. Although the idea seems acceptable, most one-liners land badly and some of them are also outdated. The scenes in which Shiva plays a mental patient are inventive for something written for a protagonist, but they don't help the movie as a whole.
Despite all this, we expect at least one good character who is sane and contributes for the best. This could also be Rambhala's intention – to create a world of "idiots". But only disappointment surrounds us. At some point, even the ghosts are objectified and insensitive jokes are hacked here and there.
Shiva, as usual, wears her character subtly and does her best to elicit laughter from the audience. But given the plot, he has no wiggle room. Nikki Galrani and Urvashi, who plays Anandaraj's wife, play well and make the film somewhat watchable.
As for the background score, it is very typical and sometimes it looks like a rehash of music from other popular movies. The cinematography and editing add value to it, except for the continuity, which, again, is out of sync from the start.
Overall, Idiot is a subpar movie that could have explored a new side to the genre with better writing sensibilities. But again, we'll have to wait for a real movie to come out like this.