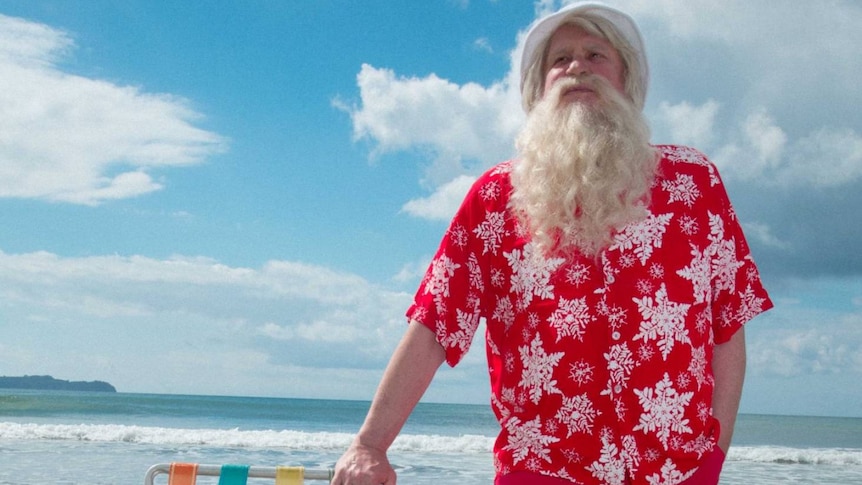 Australian Christmas Movies You Can Stream Right Now, From Horror To Comedy
In the sunniest December months the last thing I want to do is watch a garish Christmas movie with snow and roasted chestnuts.
The only thing is that Christmas movies or specials set in the Southern Hemisphere are a rare find – but they do exist.
Dr Lauren Rosewarne is a pop culture scholar who says she "never wants to see another Christmas movie again", after watching 1,200 Christmas movies and writing a book about them in all their glorious silliness.
Lucky for you, we've sorted her list to share some of the best and worst Aussie Christmas content.
For when you avoid tweeing: A Moody Christmas
Loading
Listed as A Moody Christmas on Stan and Netflix, and The Moodys on ABC iview, this 2012 miniseries in one of the most entertaining Christmas stories.
The series follows Dan Moody, played by Ian Meadows, as he returns from London each year to face the grueling ordeal of an extended family Christmas reunion.
"I really like it because it's not idealized… international content can be very delicate and twee," says Dr Rosewarne.
"Moody Christmas has more of the irreverent Australian type of humor [and] I think there are a lot of entry points for the audience to see parts of our family, which many of us would relate to. "
Where to watch: Stan / Netflix / iview.
For something light: Da Kath & Kim Code
If you're looking for a Christmas special that's also a parody of The Da Vinci Code (my favorite niche crossover), look no further than Da Kath & Kim Code.
In true Christmas spirit, the film stars Michael Bublé, who performs with Kath and Kel at Christmas carols, before Kel hits him for flirting with his foxy wife.
There are also cameos from Barry Humphries and the original Wiggles, Kath playing the marimba, Kim pole dancing, and Sharon's attempts to date the internet around 2005.
Where to watch: Netflix.
For something romantic: Christmas at the Farm
Loading
The latest Christmas offering is the 2021 Stan movie Christmas on the Farm.
Centered on a highly plausible plot, the film follows Emmy – an Australian expat turned New York socialite – who must pretend to be her late mother, Clementine, after writing her life story and claiming it as her own memoir. .
Hilarity ensues when the editors of the book ask to meet "Clementine" at her farm in Australia. The only thing is, the publisher turns out to be a hottie that Emmy had a one-night stand with – gasp!
It sounds a lot like a 2000s romantic comedy – there's a gay sidekick to give the protagonist a makeover, a classic scene of a city dweller trying to milk a cow, and there's even a weird and sassy 12-year-old to deliver. the hard truths. All along, a silly but fun movie to watch with your friends.
Where to watch: Stan.
For the whole family, across the divide: Kiwi Christmas
Loading
If you have kids and are fed up with Home Alone and Elf (IMO's best Christmas movie of all time), why not give Kiwi Christmas a try?
As the name suggests, the film is set in New Zealand, where Santa Claus leaves for a well-deserved vacation.
The abundance of beach, camping, and barbecue grills is a welcome break from the regular Christmas programming, and toddlers will certainly enjoy the heavy-handed slapstick comedy.
Where to watch: 7plus.
For a touch of the outback: A Sunburnt Christmas
Loading
Another film about a Santa on the run is A Sunburned Christmas, but this time Santa is actually a criminal on the run.
On a drought-stricken backcountry farm, Santa Claus comes looking for his bag (bag of stolen money). He enlists two loyal children (one of whom has a gun) to help him find him, and the adventure begins.
From the comic duo behind Bondi Hipsters and The Other Guy, the film delivers laughs, as well as some sweet moments around the cross between Santa Claus and father figures.
While it stars kids, it's rated M, but makes for an enjoyable family movie with teenagers.
Where to watch: Stan.
For Horror Fans: Red Christmas
Loading
When I asked Dr Rosewarne for a Christmas movie so bad it's good, Red Christmas was his first thought.
"Outside of this genre that I hate, I like Christmas horror movies more, because I think I like [how they] overturn all the Christmas clichés, "she said.
"Christmas horror is actually quite a broad genre, but not in Australia. I love that we were part of that and created our own version of a Christmas bloodbath.
"[Red Christmas] isn't a great movie, it's definitely not going to win any awards, but I like the idea that there are alternatives to… all standard tropes. "
Where to watch: Apple TV / Google Play / YouTube.
For a nostalgia for the 90s: Crackers
Loading
Crackers follows 12-year-old Joey, who reluctantly spends Christmas with her mom's family, her new boyfriend, and a rooster called Mo.
As Dr Rosewarne says, "With Australian content we lower the bar a bit, because we're thankful that we have something. I did that with Crackers, but it's still a good movie. I found it. pleasant."
While it's billed as a rowdy '90s comedy and features fun scenes, it's also filled with themes of family tension, sanity, and death – Dr Rosewarne says death in particular is a surprisingly common trope. in the Christmas movies.
Where to watch: SBS on demand.
Everyday ABC in your inbox
Receive our newsletter for the best of ABC Everyday every week