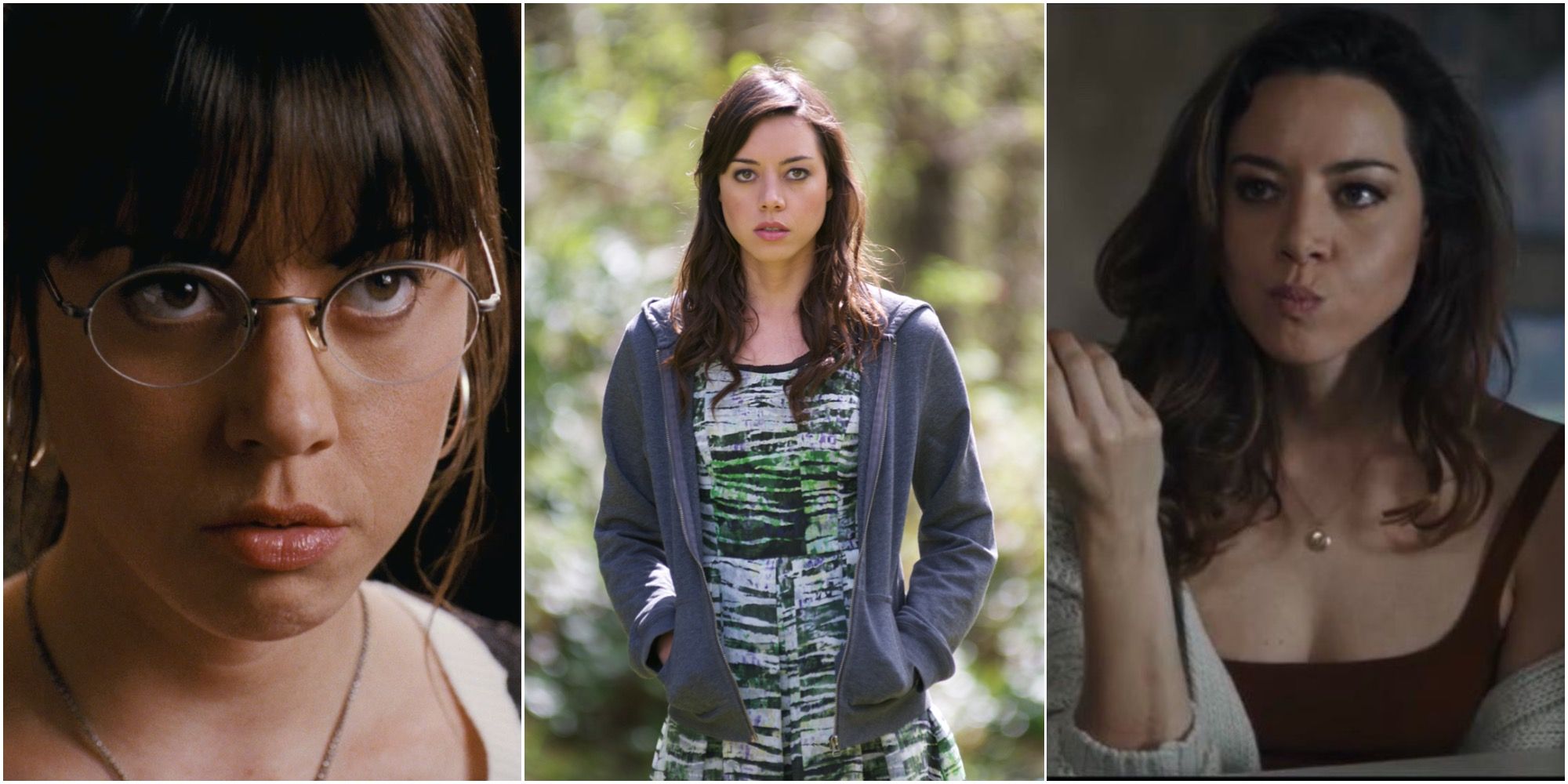 Best Movies Starring Aubrey Plaza, Ranked
Aubrey Plaza's most iconic role, and the one for which she remains best known, was that of April Ludgate in Parks and recreation from 2009 to 2015. Her character was a fan favorite of workplace comedy, known for her mean attitude, witty comebacks, name-calling, and sarcastic sense of humor. Her second most iconic role was Julie Powers in Scott Pilgrim vs the world alongside Michael Cera.
Since her sitcom stint, Plaza has starred in many other movies, including comedies and horror movies. Fans of the actress certainly have plenty to watch, and for those who want to catch up on Plaza's work, these films are the best yet.
9

Life After Beth (2014)
This horror-comedy stars Aubrey Plaza as Beth Slocum, alongside Dane Dehaan as Zach Orfman. The story of this film follows Zach as he discovers that his recently deceased girlfriend, Beth, has returned from the dead. Although she appears to be herself, she transforms into someone or something else throughout the film. Will Zach accept her as she is or will he break things off?
Fans of the zombie genre will enjoy this lighthearted comedy full of laughable moments. In particular, those who enjoyed Shaun of the Dead enjoy the comedy style of this film.
8

Child's Play (2019)
This remake of the classic horror movie follows the same formula as the first Chucky movie. A mother, played by Aubrey, gives her son (Gabriel Batmen) a Buddi doll after moving into their new home in town. Then the doll comes to life and begins to terrorize the city, killing innocent people.
RELATED: Chucky Deserves Its Renewal: What Made The First Season A Success
While some Chucky fans prefer the classic over the remake, this movie is definitely worth watching. Plaza plays her role perfectly, and the film provides fans with plenty of scary and gory moments.
7

The To Do List (2013)
This comedy centers on Brandy Klark (played by Aubrey Plaza), a high school valedictorian with a mission. It's 1993 and Brandy is tired of being seen as an uptight person. She embarks on a mission to change that before she enters college by writing a to-do list.
These activities focus on things that Brandy thinks she should have done in high school, like losing her virginity. This coming-of-age movie is fun and will bring laughs to fans who enjoyed similar movies like American pie.
6

Mike and Dave need wedding dates (2016)
Mike (Adam DeVine) and Dave (Zac Efron) are brothers known for partying a little too much at family events. When their sister Jeanie (Sugar Lyn Beard) plans a wedding in Hawaii, she invites them on the condition that they bring dates and behave themselves.
The guys desperately post an ad on Craigslist for dates. Two sisters, Tatiana (Aubrey Plaza) and Alice (Anna Kendrick), respond and are invited to the wedding. However, the sisters are not what they seem and can spoil the special event. This comedy is well-written and full of laughs, sexual innuendo and funny moments.
5

Funny People (2009)
Comedian George Simmons (Adam Sandler) learns that he has a fatal disease. As he reevaluates his life, he sees a struggling comedian, Ira (Seth Rogen), and decides to help him achieve his dreams by becoming his mentor. Meanwhile, George's (Leslie Mann) old love comes back into her life.
RELATED: Seth Rogen's Teenage Mutant Ninja Turtles Movie Set for 2023 Release
In this black comedy, Aubrey plays the role of Daisy Danby, a supporting character. This film has a well-written story full of drama, rich characters, and hilarious moments. It explores themes of regret and second chances.
4

Black Bear (2020)
In this psychological thriller, Allison (Aubrey Plaza) is a filmmaker struggling to find inspiration for her next film. With any luck, she's invited to stay at a couple's lakeside home in the Adirondack Mountains. Unaware of Allison's true intentions, the couple quickly find themselves in a dire situation where they are constantly manipulated. Their lust and jealousy are also tested.
Black bear is a dramatic film with a breathtaking experience. It's provocative and full of clever moments that are definitely worth watching.
3

Ingrid Goes West (2017)
Ingrid Thorburn (played by Plaza) feels lost after her mother's death. She finds solace in escaping into the world of Instagram, when she reunites with Taylor Sloane (played by WandaVision's Elizabeth Olsen), a Los Angeles socialite. Obsessed with her, she moved to the West and does everything in her power to befriend her.
RELATED: This Fan Theory Proposes How Wanda Will Bring Mutants Into the MCU
This comedy is dramatic at times and can serve as a wake-up call for fans on social media, as they never know who might be watching. Although this film has some funny moments, the story teaches fans a lesson they will never forget.
2

Security Not Guaranteed (2012)
Security not ensured is a touching story about a magazine intern named Darius Britt (Aubrey Plaza), who meets a strange man named Kenneth Calloway (Mark Duplass). This man is looking for someone to follow him on his journey through time, and he asks Darius if she is interested. The two embark on a wild adventure full of hilarious and witty moments.
This romantic comedy focuses on second chances and the feel-good factor. It's a relatable movie that many fans will enjoy and remember for a long time.
1

Scott Pilgrim Vs. The World (2010)
Scott Pilgrim Vs. the World is about a bassist named Scott Pilgrim (Michael Cera), who plays for his garage band. Finding a girlfriend was never a problem until he met Ramona Flowers (Mary Elizabeth Winstead). As he tries everything to seduce her, he has to fight against his exes.
One of his exes, Julie Powers, is played by none other than Aubrey Plaza. This movie is fast paced and full of amazing action and visuals. Aubrey Plaza fans will love this fun comedy.
MORE: Interview: The Boys Presents: Diabolical's Giancarlo Volpe Talks Favorite Episode, Production Challenges & Reuniting Scott Pilgrim
Amouranth returns to Twitch after a 3-day ban
Twitch is overturning its fifth ban against popular streamer Amouranth, allowing her to return to the streaming platform after just three days.
Read more
About the Author