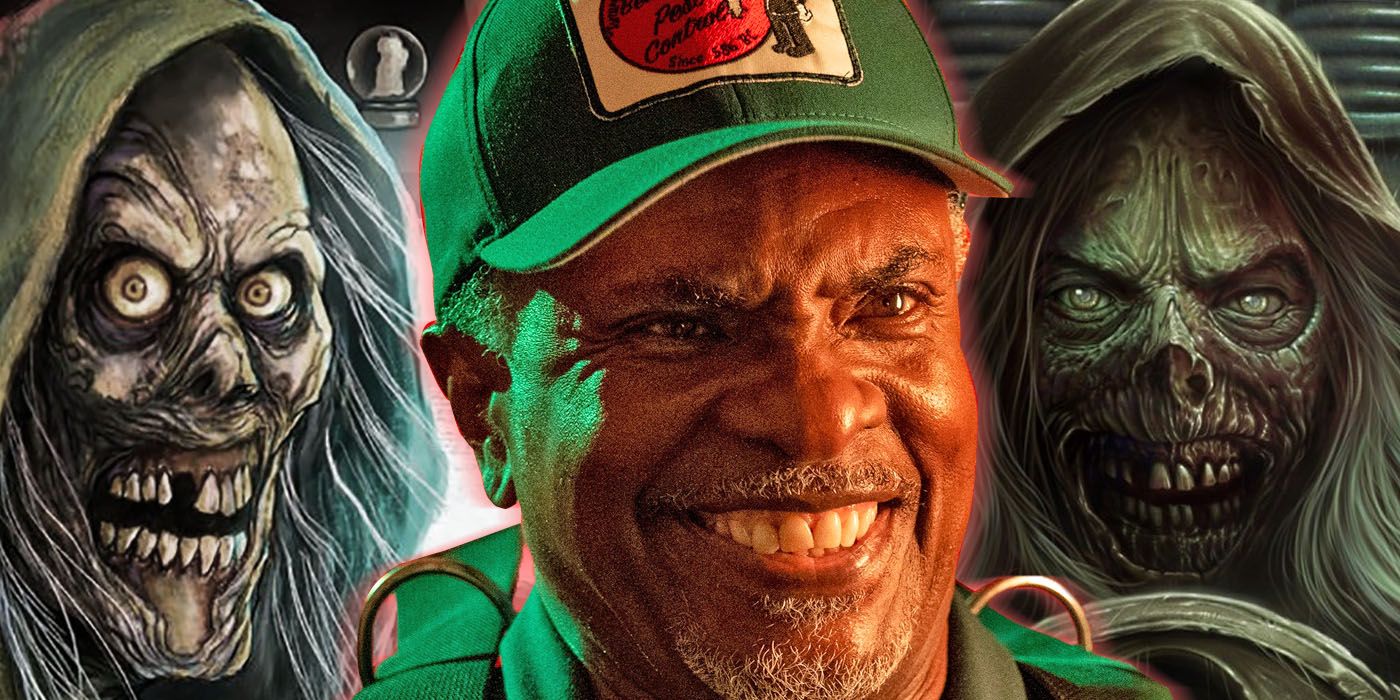 Creepshow's Keith David Celebrates Season 2
Part of what makes Greg Nicotero Horror show the perfect cast of the series is so great, and Season 2 was no different in that regard. Horror show Season 2 brought a slew of star-studded actors to the hit horror anthology series, who, of course, are no strangers to the things that happen in the night. From legendary Barbara Crampton to Drag me to hell's Justin Long, part of the joy of Horror show is waiting to see who will appear in the next horror short and what terrifying situation will come their way – or what bloody chaos they will cause for macabre fun.
In Season 2's "Pesticide", Keith David stepped into the spooky ring, portraying Murdoch, a laughing evil character. Having worked with people like John Carpenter, David is well versed in the horror and big SFX sets that fans expect. Horror show. Celebrate Horror show When Season 2 arrived on DVD and Blue-ray, David sat down with CBR to discuss his role in the anthology series. David also teased where his Star girl the role of Mister Bones then heads and shared his thoughts on returning as Captain David Anderson for the Mass Effect TV series currently in negotiations with Amazon and EA.
RELATED: Creepshow: Nicotero Summons Bloody Laotian Monster for Epic Season 3 Ending
CBR: As someone who starred in John Carpenter The thing and They live, the two films that revolutionized the way SFX effects are used in horror, was a love for SFX work that drew you to star in Horror show?
Keith David: A lot of times special effects are done in post-production, so I don't always see them in action. In Horror show, I got to see some of these special effects, some mechanical stuff. But like I said to the last interviewer, you don't want to know how the sausage is made. Suffice to say that I had fun watching the process and being able to participate. It was very fun. As for what attracted me, it all attracted me. This is the magic of cinema. This is the fun part. I can do this. I can see how some sausages are made. I hope I make you believe it.
Speaking of your role, in Horror show "Pesticide" of season 2, you play as Murdoch, who definitely chews the landscape. You are that kind of chaotic villain – depending on how you look at him, right?
Correct.
I was curious to know what delighted or surprised you most about his character?
I think what I liked about him in the end was how ready he was to reveal his agenda. It will also show you the depths that people are going to take when they have money; they think money can buy anything. It also shows you how far people will go when they spend their money and feel betrayed.
You have to watch the guy who was willing to spend the kind of money to do what Murdoch was asking to do, but you also got to watch the guy who was willing to take that money. In a way, thank goodness he was willing to betray his own word and not do what he was asked to do, which was ultimately done by accident, but at least part of his humanity did. showed.
RELATED: Creepshow: Mark Hamill Details his Villainous Debut and Nicotero's Grim Vision
Yeah, I think if anything, it somehow shows that the money is bad. It was cool to watch it unfold –
Money is money. Evil is the way it's handled and used – that's Murdoch. He's Murdoch for wanting to use it that way, but he's also the Bug-man for even wanting to have the conversation about accepting it. Who is worse? Murdoch was willing to spend the money, but he wasn't willing to do it himself, which is another kind of sleazy. But who is the fishiest guy who asks you to do it, and won't do it himself? Or, the guy who can refuse to do it in the end, but actually takes the money to kill him. Who is the most suspicious?
Law. I think that doesn't necessarily answer that question, which I like. Nicotero also directed Horror show's "Pesticide". What did he bring to the leadership that you thought was unique while working with him and that you would like to share?
I like that the atmosphere was created so that I didn't have to 'play'. We could just find the character behavior that made sense. We just had to do the next thing we were asked to do. That's what a good director does, they just set it up so you don't have to act. You just found the behavior.
RELATED: The Best Horror Icon Creepshow Cameos (So Far)
In Star girl, you play as Mister Bones. Now that Mister Bones is heading to Blue Valley, how worried should we be about Stargirl and her friends?
I would tell you but I should kill you.
[laughs] This is the only answer.
You will have to watch it.
There have been reports of a Mass Effect upcoming TV show. You played the role of Captain David Anderson in the EA video game series – a much-loved role. So I was curious to know if you would ever be interested in taking over this role if this project were to see the light of day? And, if you did, was there something different you wanted to bring to the role this time around?
Oh, no, I just wanna be there and do whatever they put in place. I just wanna be there.
For my last question, what do you want to talk to the public about? Horror show and his funny take on horror?
Keep coming back, because it's such a wonderful series. Keep supporting, keep coming back, and keep watching. It's getting better and better.
To see Keith David battle the "parasites" and share a delightfully spooky laugh for the ages, check out Creepshow Season 2, now available on DVD and Blu-ray.
KEEP READING: Four Best Creepshow Episodes To Watch Before Season 3