Interview with Leslie Sebert, head of the makeup department of Netflix's "Nightbooks"
One of my favorite movies of the year so far has been Netflix Night books (read our review – HERE). It's such a dark and magical story with vibrant colors, fun makeup, and special effects. But who is behind this magic? Well, that would be the head of the makeup department, Leslie Sebert. Find out about her career, how she got involved in makeup / special effects, her involvement with Night books, and more!
PopHorror – Hi Leslie! How is 2021 treating you so far?
Leslie Sebert – Hello, 2021 is going well for now. Hope it went well for you too!
PopHorror – That is, thank you! How did you get started doing makeup / effects for movies?
Leslie Sebert – My father was a film and commercial director and I often visited him at work when I was growing up. One day when I was 13, I met a makeup artist, Irene Redford, and watched her work. From that moment on, I knew what I wanted to do. I started training when I was 14 and started working on different ads when I was 18. Shortly after, I quickly moved on to feature films.
PopHorror – It's awesome! What's the first movie you worked on?
Leslie Sebert – The first movie I worked on was called A new life, directed and performed by Alan Alda and Ann Margret. I was actually able to serve as Irene Redford's key makeup artist.
PopHorror – Wow, this is crazy. One of your most recent projects is Head of Makeup Department for the dark fantasy, Night books, how did you get involved in this?
Leslie Sebert – Originally I was sent the script and it was such a great read. I liked it. Sami Raimi was the producer I worked with on the Fighting spirit remake, as well as Sam Rockwell. It was a great experience and I knew how to take Night books would also be a very creative process.
PopHorror – Love them both! Have you read the book the film is based on?
Leslie Sebert – I didn't have a chance to read the book beforehand, but I felt inspired by the story and the script, and I knew this was a project I wanted to get involved in.
PopHorror – The makeup and special effects are exceptional and really bring the movie to life. Can you tell us in more detail how you created all of this for each character?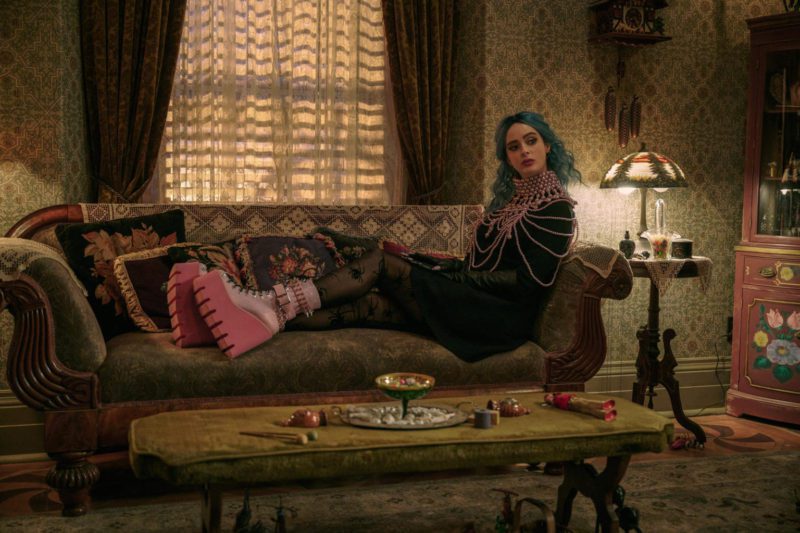 Leslie Sebert – I start by working from a mood board and I am inspired by it. My boards may include vintage makeup looks, contemporary runway and street makeup looks, fabric color swatches from wardrobes, hair and wig colors, and some graphics or symbols. It really is all that inspires creative thoughts to flow. I worked with the board and collaborated with Krysten Ritter (read our interview with her – HERE) for her character Natacha. The kids (read our interview – HERE) were pretty straightforward but created all the substances they got into – especially with candy vomit, grinding grease, and ultraviolet dirt. The characters in the story were based on black and white makeup, highlights, and shadows. Grizelda, the old witch, was designed by KNB prosthetics.
PopHorror – You did an amazing job! What was your favorite part of the movie?
Leslie Sebert – My favorite part was the elevator scene and the candy puke. The vomit that ended up on the children was a challenge to be created. After extensive testing, we have created the perfect candy vomit with the texture, durability and color suitable for wardrobe vomit and also food safe to be on child's skin.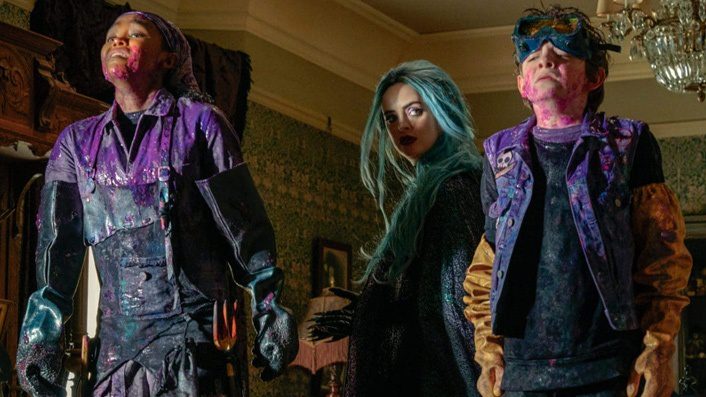 PopHorror – It was one of the best parts! You have 35 years of experience in the makeup industry, can you give us some of your top tips and tricks for creating the perfect Halloween look?
Leslie Sebert – You'll want to scare people and create your own look using makeup, wigs, and costumes. Don't go out and buy a costume! It doesn't have to be perfect, but you should want to capture this spooky look. You should try to use large false eyelashes as they are great for a Halloween costume like this. Your scary makeup can turn beautiful, add lots of liner too!
PopHorror – I love these tips! Any other projects you would like to talk about?
Leslie Sebert – I just finished working on a thriller called "Ivy»With Alice Braga from Queen of the South. I don't know exactly when it will be released, but it was a great project and I can't wait for it to be released!
PopHorror – Well, I look forward to it and all your future plans! Thanks again, Leslie, for chatting with PopHorror. Have a fun, safe and spooky Halloween!