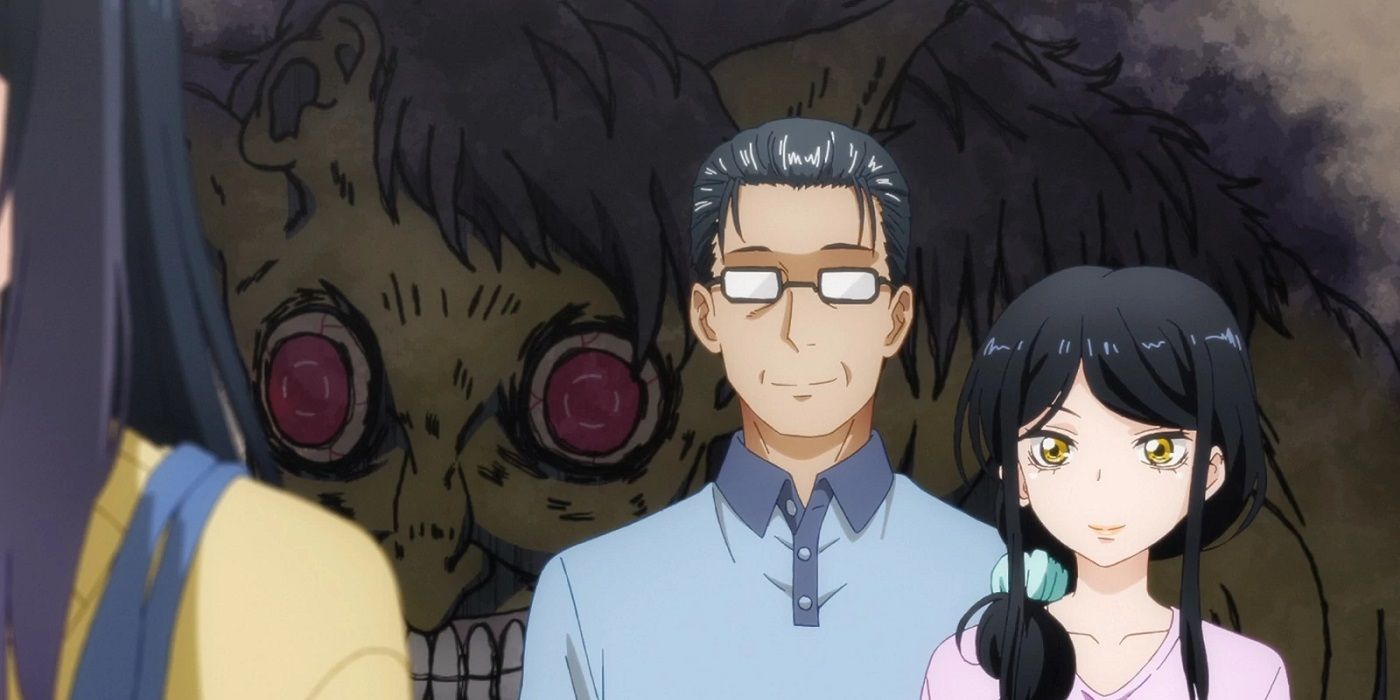 Mieruko-chan delivers emotional reveal about Miko's family
Mieruko-chan's comedic elements usually give viewers a laughing matter, but Episode 4 turns things around a bit and gets surprisingly emotional.
WARNING: The following contains spoilers for Mieruko-chan Episode 4, "Yes, she sees them,"now streaming on Funimation.
Mieruko-chan the formula hasn't really changed much since its first episode, with Miko's frequent run-ins with the occult serving as a cornerstone of the series. While it can be repetitive at times, the various spirits – alongside Miko's desperate attempts to ignore them – are what give this unique horror comedy anime its charm. Episode 4 changes things briefly, however, focusing a bit more on Miko's family life and introducing a much-needed depth to the stone-faced protagonist.
Having to constantly deal with ghosts wherever she goes naturally began to affect Miko's personality. She is understandably paranoid every time she walks into a room, whether at home, at school, or elsewhere. The people around her don't seem to have figured this out yet, with the exception of Miko's younger brother Kyousuke.
RELATED: Mieruko-chan: Miko Sees Dead – And Ignores Them
Not much is known about Kyousuke, but it seems he and his sister are relatively close, spending some of their free time watching TV together. When some of her classmates give her the idea that Miko's strange behavior is the result of her boyfriend, Kyousuke sets out to watch over her older sister.
Worried that Miko is in a bad relationship, Kyousuke follows her after school. Despite his good intentions, however, Mieruko-chan viewers know there is nothing he can do for her. It doesn't help that following Miko only deepens her initial misunderstanding. The situation ends up playing out, Kyousuke happily concluding that his sister has yet to start dating.
Everything looks fine in the Yotsuya house – until Miko notices an impossibly large and terrifying ghost at the breakfast table. The horrible specter scares her away and sends her straight to the front door of the house. Before leaving, Miko takes a moment to visit a funeral altar – revealed to be her father's.
RELATED: Mieruko-chan: Miko Makes the Right Choice
Mr. Yotsuya has always lacked any sort of presence in every scene he's appeared in, and the new revelation in Episode 4 is why. A year before her death, Miko and her father quarreled over the latter to eat a special seasonal pudding. Before they could apologize to each other, Mr. Yotsuya died in a traffic accident.
It seems Miko was aware of her father's presence like any other ghost. Like the others, she ignores her father's mind but ultimately makes peace with him by offering some of the seasonal pudding to his altar. The gesture puts her father's mind at ease, also giving Miko some much-needed closure.
For a typical one-note show, Mieruko-chan did a great job adding emotional depth with episode 4. There was always something odd about the way Mr. Yotsuya fit in with the rest of the cast. The twist was handled well from the start and really fleshed out Miko's family situation. After causing her so much grief, it's great to see Miko's powers doing her good for a change.
KEEP READING: Mieruko-chan: Miko's Ghost Problems Keep Getting Worse
My Hero Academia's Deku considered Bakugo a childhood friend – but he shouldn't