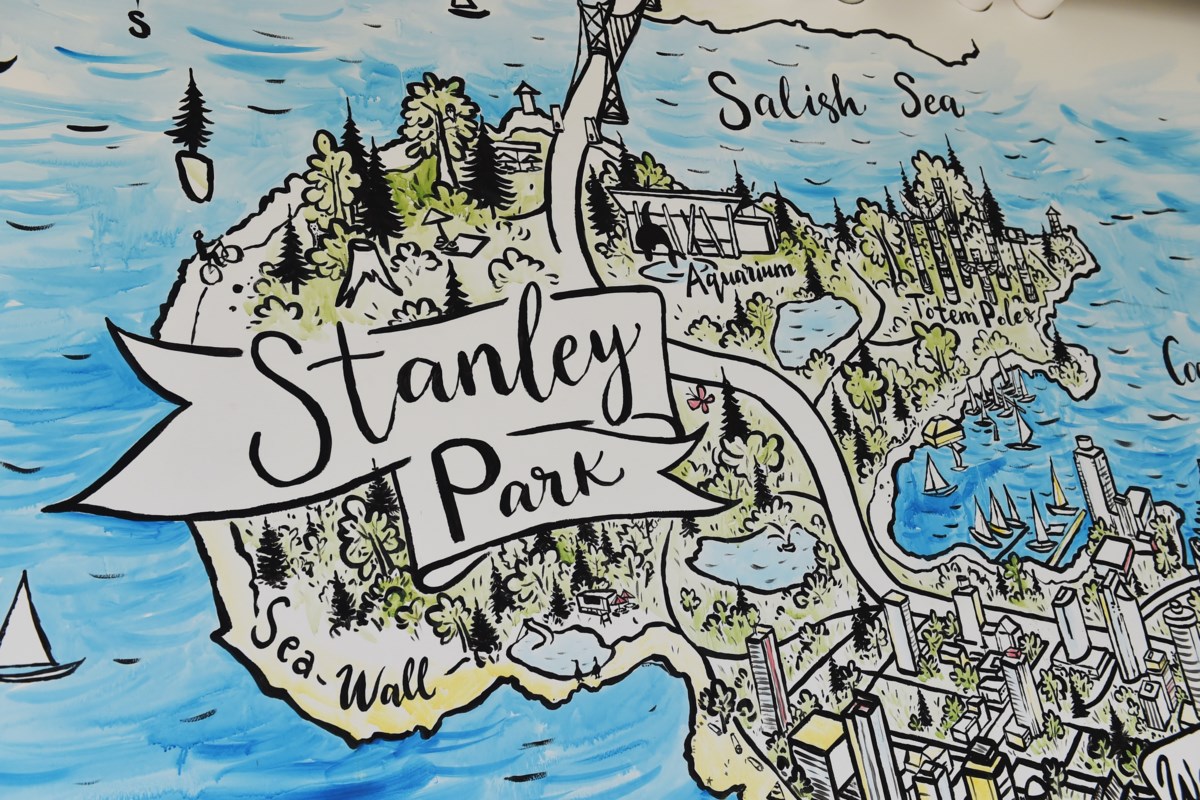 New massive mural painted at Vancouver University
The huge mural covers nearly 200 square feet.
Science World, the Stanley Park totem poles, the digital killer whale, it's all there in Elena Markelova's new work of art.
This artwork is a 9-by-21-foot wall on the Vancouver House campus of the University of Canada West (UCW). Markelova just finished the huge, intricate and detailed watercolor painting, a project that took weeks.
"Everything makes sense and everything is in its place and I was so picky about it," she told Vancouver is Awesome. "Even when I was drawing, I had to use my iPhone with the 3D map to place the buildings where they were supposed to be."
The local artist came from Maple Ridge five days a week for over two weeks to draw and then paint the gigantic piece, working up to 10 or 12 hours a day.
"I had a vision in my head of how it should turn out that I couldn't stop," she said. "Some days were really tough."
At one point, she had to take a day off because her hand needed a break; it was shaking and she needed control to keep the details smooth.
To reach higher areas, like the Lions Gate Bridge, she had to paint from a ladder. One day, towards the end, she dropped her painting. The mug with the blue inside fell to the floor with Markelova staring at it in horror.
"And I could see it in slow motion and I was jumping off the ladder to grab it, but not a single drop landed on the mural," she says.
Which was lucky; the painting is on a white wall and corrections would have been difficult. As a watercolourist, she does not use white paint, which would have been necessary to cover up any mistakes. Thanks to skill and luck, she didn't.
Painting Science World was probably the hardest part, she says, especially adding color. It got to the point where she was pushing him away.
"I was so scared of ruining it all, but when I painted it it got gorgeous," she says.
Markelova, who went from graphic design to art full time, has created maps before, but nothing on this scale. To keep everything lined up, she used string to mark the location of the streets.
"I wanted to make sure all the streets were aligned," she says. "Everything is in its place and worked with the aerial perspective."
Canada West University contacted her after an employee saw her working a few years ago at an event. They contacted her earlier this year.
"I thought I would look around, see how I can transform my art on a larger scale, and there she was," says Markelova.
They showed her the wall and she planned some sketches.
"I had a very clear idea in my head, I love making cards," she says. "There's a special part of my brain for that. I looked at the wall and I could see it, exactly where it would all be."
While the project took less than a month, the end was emotional.
"There were so many emotions, I even cried a bit when I realized 'This is it'," she says.
The painting is located on the fourth floor of the UCW building on Pacific and Granville streets. Students and visitors to campus will be able to see it when the campus reopens in the fall. The public could also catch him for a brief second (more, if he walks), as he crosses the Granville Street Bridge; it is visible (in the correct light) from the bridge as you head south on Granville Street past the Pacific Street slip road.