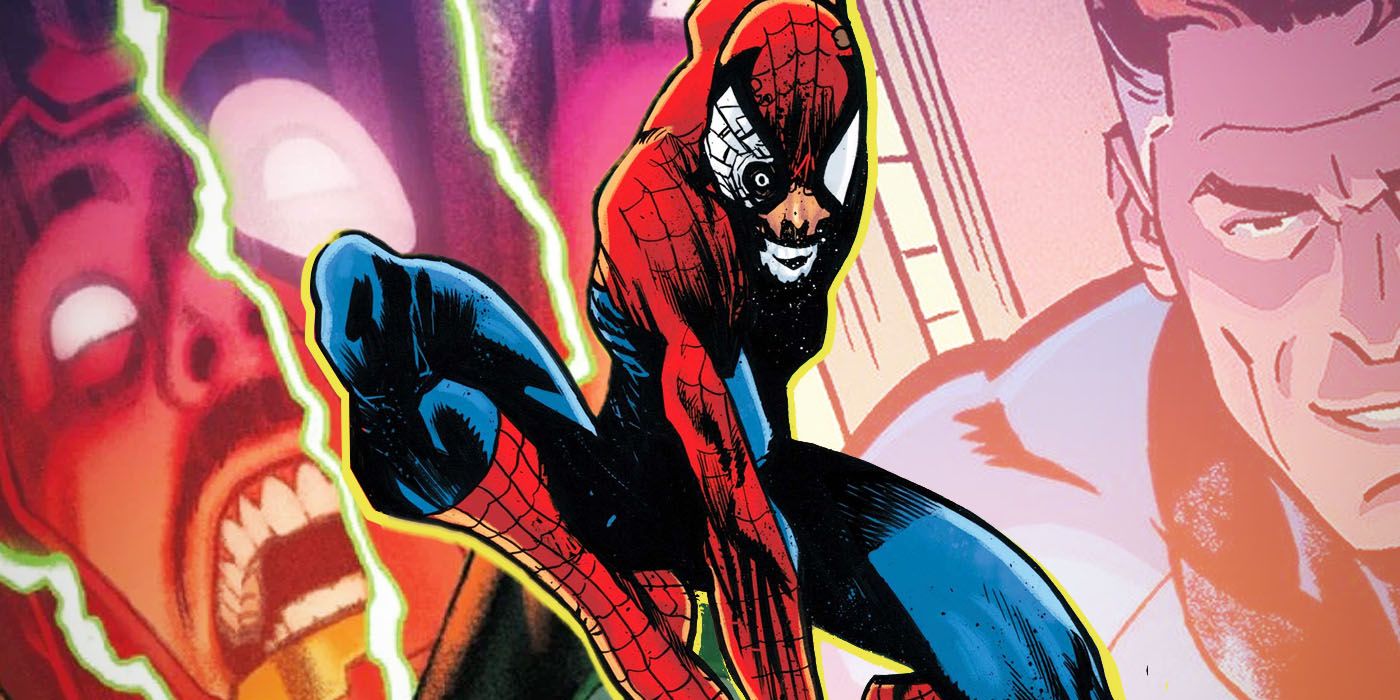 Peter Parker makes best body horror in Darkhold: Spider-Man # 1 (Review)
Marvel's Darkhold: Spider-Man # 1 tells a dark and sinister tale that marries grotesque body horror with Peter Parker's greatest adventure to date.
The Necronomicon of the Marvel Universe, the Darkhold, has been unearthed and the Dark Lord Chthon is coming to seek it. He seeks the Darkhold to escape his prison and plunge the Earth into a hellish landscape. Scarlet Witch enlists five superheroes from the Marvel Universe to prepare for the battle ahead. But things go wrong when the heroes read too far into the Darkhold, turning into evil versions of themselves. by marvel Darkhold the one-shots have shown an ominous future for the heroes, showing what happens when their actions are too catastrophic to be rectified. In this final Darkhold a shot, Darkhold: Spider-Man # 1, Peter Parker meets an equally dark fate as the world around him falls apart.
Written by Alex Paknadel, drawn by Dio Neves, and with colors by Jim Charalampidis, Darkhold: Spider-Man # 1 weaves a web of horror, mystery, and wickedness into an intricate plot. As always, Peter Parker is late. New York City is crumbling, and Spider-Man is too late to help everyone. He's also late for his birthday with his wife, Gwen. No one knows the real reason for "The Unravelling". As Mister Fantastic tries to find a way to stop the event, Spider-Man uses his strap to keep the city from falling apart. But since he disappears after three hours, the real question is whether Spider-Man can keep up with the corrosion or will his sanity finally give way?
RELATED: Marvel's Darkhold: The Wasp # 1 Comic Book Review
With Darkhold: Spider-Man # 1, Alex Paknadel created a psychological horror that is hauntingly beautiful and extremely terrifying. In this disintegrating post-apocalyptic future, Spider-Man still tirelessly helps the neighborhood as a hero, but the toll it takes on his mind and body creates an overall tense mood. Like Spidey's Spider-Sense, there is an ominous undercurrent whose howl gets louder and louder as the story continues. The Marvel one-shot focuses on Peter's experience. The reader sees what he sees and feels the terror he feels.
Artist Diogenes Neves gives this book an eerily sinister appearance with grotesque mutilated skin and bloody decay. Neves even gives the gruesome elements of his visceral work a dramatic and cartoonish appearance. It uses bold lines to capture the smallest detail of every character that appears, cradling the reader before shocking them again. Colorist Jim Charalampidis is the perfect partner for Neves' work. While using a wide range of colors in Darkhold: Spiderman # 1, Charalampidis does not forget the goal of this one-shot. He plays with different shades of red to create disturbing series of body horror images.
RELATED: Marvel's Darkhold: Black Bolt # 1 Comic Book Review
Spider-Man is one of those rare Marvel superheroes whose intriguing origins and malleability as a character have led to tons of stories that are not for the faint of heart. While some got hit and others missed, Darkhold: Spider-Man # 1 is definitely one of the hits that will stay in the minds of readers for quite some time. As Peter Parker flies over his city, his obsessive urge to fix things pushes him mentally and physically on edge, leading him to make some grim choices by the end of the book. A character-driven narrative interspersed with horror elements, Darkhold: Spider-Man # 1 is required reading for fans of the Spider-Man and the horror genre.
KEEP READING: Spider-Man: No Way Home Writers Explains How They Balanced Story With Fan Service
Task Force Z: Red Hood Just [SPOILER]ed – Again
About the Author