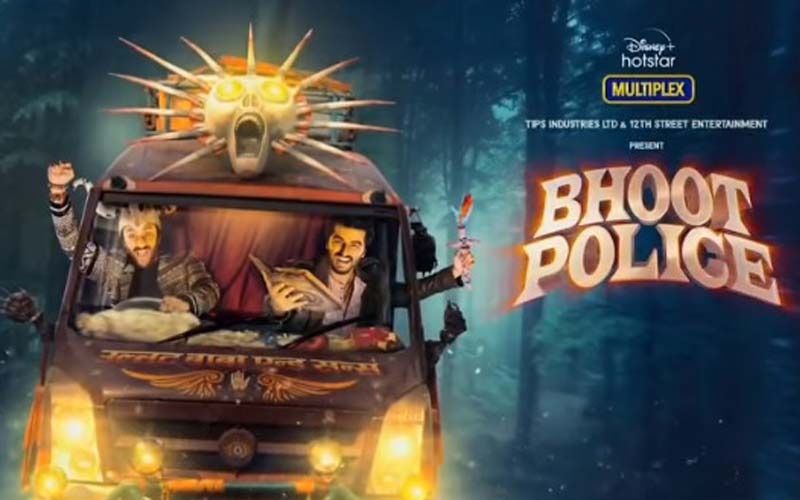 Saif Ali Khan, Arjun Kapoor and Yami Gautam Starrer Horror Comedy trailer to be released on this date
On Saif Ali Khan's 51st birthday today, the creators of Bhoot Police released a teaser for the film and announced a date for its trailer. Directed by Pawan Kripalani, the horror comedy marks Saif's first collaboration with Arjun Kapoor, Jacqueline Fernandez and Yami Gautam. Whether it's its intriguing posters or the actors' first glance, the film has been in the news since its inception. While everyone waited for its trailer, the creators announced its release on August 18th.
Arjun also took to his social media to announce the same and shared a new teaser, writing: "Bajega bhooto ka band, jab aayenge Vibhooti and Chiraunji. The #BhootPolice trailer arrives August 18 at @disneyplushotstarvip. Stay tuned! #DisneyplusHotstarMultiplex.
The video opens with a ghost mask, then shows a bus that Arjun and Saif are sitting in and looking to enjoy the ride. We see a mask with a phantom face welcoming them. Arjuna. The poster features the Gunday actor as Chiraunji and Saif Ali Khan as Vibhooti, ​​two ghost hunter brothers. Set in a strange atmosphere, the two actors appear in a quirky look.
Take a look at the post below:
Bhoot Police was previously scheduled to hit theaters on September 10 this year, but due to the Covid 19 pandemic, manufacturers have now opted for a digital release. Set in the hills of Himachal Pradesh, the thriller will see Saif and Arjun play the roles of the locals while Yami and Jacqueline will be seen as outsiders.
The film is slated for release on Disney + Hotstar on September 17, 2021.
Image source: Instagram / arjunkapoor /