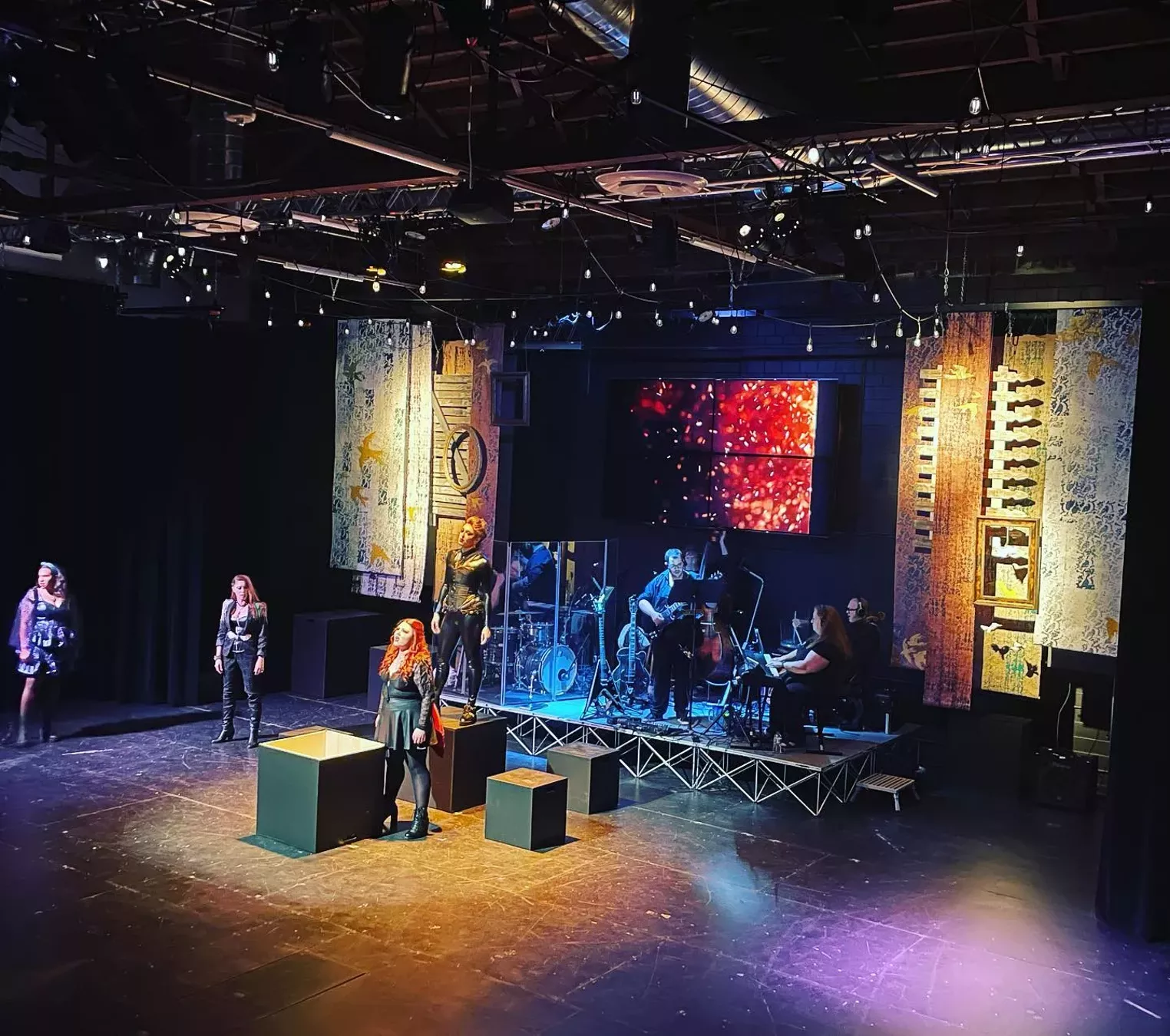 Ten things to do in Denver this weekend, October 7-10, 2021
[ad_1]
Are you afraid? This weekend is full of gruesome events, from the start of a real monster show at the Clocktower Cabaret, to a haunted house drive tour to the start of the Mile High Horror Film Festival. It's a good time for serial killers too, with the debut of Lizzie at the People's Building, as well as the debut of Audacious Theater's Ladies killers.
But there are also much less gloomy celebrations, including the kickoff of Su Teatro's 50th anniversary year and a big RedLine party. Check out our list of ten free events here, and keep reading for ten of the best paid events in Denver this weekend:
Mile High Horror Film Festival
From Thursday October 7 to Wednesday October 13 online
To fear. Be very afraid. The Mile High Horror Festival is back, but it's going virtual this year, allowing you to stream new horror, thriller and sci-fi films from around the world, as well as Q&A with filmmakers and guests. specials. "There are so many fantastic new horror, thriller and sci-fi movies," said Timothy Schultz, co-director of MHHFF. "We are extremely happy to bring them to light." Get all the details, plus passes, here.
RedLine Epic Gala
Thursday October 7 5:30 p.m. to 9:30 p.m.
RiNo ArtPark, 1950, 35th Street
The incredible RedLine initiatives linking art and community deserve endless accolades, but funding is what really helps this artistic nonprofit continue to grow and achieve new goals. The RedLine Epic Gala is one way to help the organization and have a good time doing it. The party at ArtPark RiNo, RedLine's newest satellite site, begins with an Arts in Society grant program on El Sistema, a youth violin program, followed by spoken word with slam poet Hakeem Furious, music live with Wellington Bullings and Kayla Marque, and art from RedLine resident artists new and old. Tickets start at $ 150 here.
Denver Horror Story: Cabaret
Thursday October 7 7 p.m.
Clock Tower Cabaret, 1601 Arapahoe Street
"Life is a cabaret you'll love to death," promise the organizers of Denver Horror Story: Cabaret, which opens tonight in the Clock Tower, one of the city's most haunted venues. A burlesque tribute to the emblematic characters of american horror story, it's a real monster show. After tonight's debut, he repeats the next two Thursdays; get tickets, $ 40, here.
Architecture of a haunted house
Thursday, October 7 from 7 p.m. to 8 p.m., online, with a guided tour by car
The Molly Brown House Museum has redesigned the way we think about haunted houses for Architecture of a Haunted House, a virtual program and self-guided tour of architecture seen from your own car. Wander the streets under the stars to spot specific architectural details (like Widows' Walks and spooky towers), and learn how the popular image of the haunted house first appeared. It's only $ 10 to play; learn more and sign up to receive the event link and business card here.
El Corrido del Barrio
Thursday October 7; Friday October 8 and Saturday October 9 7:30 p.m .; Sunday October 10, 2 p.m.
Su Teatro Cultural and Performing Arts Center, 721 Santa Fe Drive
As Su Teatro turns fifty, the company run by Tony Garcia brings back what has become its flagship production: El Corrido del Barrio, the story of how the Auraria neighborhood was brought down by a wrecking ball to make way for what is now the Auraria campus. Su Teatro has come a long way from a traveling group of Chicano activists performing political skits on the streets, and Corridor only grows richer over time as a shining symbol of the lost community that was centered around the iconic St. Cajetan Church. Performances continue until October 24; find the full schedule and get tickets, from $ 17 to $ 20, here.

Legends of the Grim Mountains
Friday October 8 and Saturday October 9 6.30 p.m.
Lemmon Staggs Homestead, Fort Collins
LuneAseas brings you six new stories of myth and truth, full of headless ghosts, flesh-eating blue haze, shape-shifting witches, and cave elves. Each legend is told around a roaring fire with original compositions, live music, dance of light and shadow, ballet, theater and moving visuals – and there will be handcrafted libations as well as thighs smoked turkey and s'more kits to help support you. Performances continue on weekends until October 23; learn more and get tickets, $ 20, here.
Lizzie
Friday October 8, Saturday October 9 and Monday October 11 at 7:30 p.m.
People's Building, 9995 East Colfax Avenue, Aurora
Before dismissing Lizzie Like a good ol 'true story melodrama about the woman who notoriously axed her mother and father forty times in 1892, think again. The musical with a rock score turns out to be conducted by a group of six musicians led by four angry women. Will there be murders? Absolutely, but there will also be a lot of music backup. The show runs until October 31; find the full schedule and get tickets, from $ 20 to $ 35, here.
the elephant
Friday October 8 and Saturday October 9 8 p.m., Sunday October 10 2 p.m.
The Bench at 40W, 1560 Teller Street, Lakewood
the elephant, a work "designed" by Abner Genece, Candace Joice and Neil Truglio, draws inspiration from the writings of Frederick Treves, the physician who befriended Joseph Merrick, a real character known to theater fans as of Elephant Man. But the Benchmark Theater's world premiere performance takes a metaphorical leap and left turn to focus instead on the history of racism and otherness endured by black Americans, seen through the prism of Treves' understanding. It's a cool thing. the program continues until October 30 (and Mondays are industry nights); get your tickets, $ 15 to $ 30, in advance here.

Doors Open Denver
Saturday October 9 and Sunday October 10
In town and online
Doors Open Denver is back until October 17, with a combination of a dozen virtual tours available on demand and four in-person tours per day on weekends. You can visit the Clyfford Still Museum, the Historic Elitch Theater, the Historic 11th Avenue Hostel, and the US Olympic and Paralympic Museum, among others, but tickets – $ 25 for Denver Architecture Foundation members and $ 30 for non -members – are limited. Get all the details and tickets here.

Plan ahead:

A conversation with Stacey Abrams
Wednesday October 13, 7:30 p.m.
Paramount Theater, 1621 Glenarm Place
Stacey Abrams fans think she's invincible, smarter than the average politician, and someone who should be president, and that's not just a pipe dream. Abrams, whose voting rights efforts in Georgia helped put Biden in the White House and Democrats Jon Ossoff and Raphael Warnock in Congress, is certainly one of the most powerful women in American politics today. Not only that, but she also writes romance novels and thrillers. No doubt her conversation with journalist Gloria Neal will be full of ideas, hard facts and achievable dreams. Tickets start at $ 44.50 at Ticketmaster; catch them here if you can.

Do you know of a big event in Denver? We will update this list throughout the week; send information to [email protected]

[ad_2]