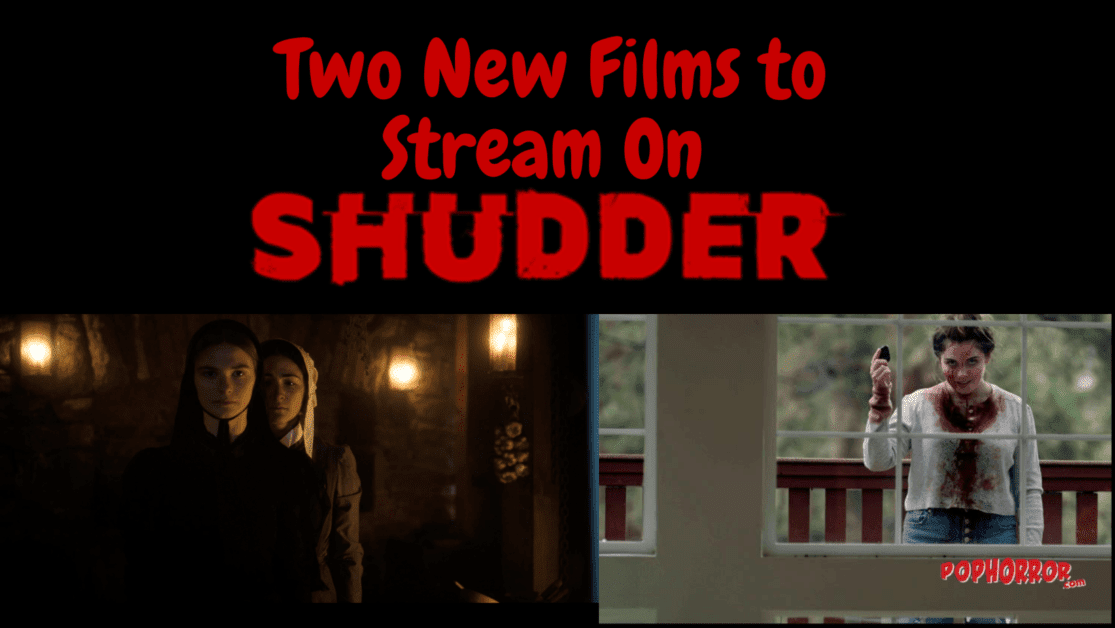 Two new films to be released on Shudder for August 2021
Shudder is my favorite streaming platform, hands down. They just announced two new movies coming soon to stream on their channel. Let's take a look at both films and find out more about them.
The last thing Mary saw (2021)
Shudder, AMC Networks' premium horror, thriller and supernatural streaming service, has acquired the period horror feature The last thing Mary saw before its world premiere on August 15 at the Fantasia International Film Festival. Shudder will release the film, written and directed by Edoardo Vitaletti, in North America, UK, Ireland, Australia and New Zealand in early 2022.
Shudder Managing Director Craig Engler:
"We're excited to bring Edoardo's chilling and unique directorial debut to Shudder. Full of twists and turns that will leave viewers guessing until the end and featuring an extremely talented cast and crew, The Last Thing Mary Saw is a compelling story we can't wait to share with our members.
The last thing Mary saw Writer-director Edoardo Vitaletti:
"It is an honor to join Shudderthe incredible list of films. They've been raising the bar for thought-provoking genre storytelling for years, and I'm excited to partner with them to release The Last Thing Mary Saw.

The last thing Mary saw begins in Southold, New York, 1843: Young Mary (Stefanie Scott: Insidious: Chapter 3), blood flowing from behind the blindfold tied around her eyes, is asked about the events surrounding her grandmother's death. As the story goes back in time, we see Mary, raised in a repressive religious home, finding fleeting happiness in Eleanor's arms (Isabelle Fuhrman: Orphan), the maid. Her family, who believe they see, speak and act in the name of God, regard the girls' relationship as an abomination, to be treated as harshly as possible. The couple attempt to continue in secret, but someone is still watching or listening, and the wages of perceived sin threatens to turn into death, with the tension only heightened by the arrival of an enigmatic stranger (Rory Culkin:Waco, Halston) and the revelation of greater forces at work.

The last thing Mary saw is produced by Isen Robbins and Aimee Schoof (You're here, Blue Caprice) by Intrinsic Value Films, Harrison Allen and Madeleine Schumacher from Arachnid Films, Stephen Tedeschi (Blue Caprice) and Executive Produced by Scoop Wasserstein (The clothe). The film will premiere virtually on August 15 as part of the 25th Fantasia International Film Festival, which kicked off on August 5 as a hybrid event with in-person screenings in Montreal, Quebec and the Geo Virtual Slate. – locked in Canada. Following Fantasia, the film will premiere in the UK on August 28 at FrightFest in London.
Superhost (2021)
ShudderAMC Networks' premium horror, thriller and supernatural streaming service to be released Superhost, written and directed by Brandon Christensen (Z, Still / Born), North America, UK, Ireland, Australia and New Zealand on September 2.
Shudder Managing Director Craig Engler:
Led by the unbridled and insanely fun performance of Gracie Gillam, Superhost is an unexpected new terror and dark humor from Brandon Christensen. Following Still / Born and Z, we are delighted that Brandon will remain in the Shudder family and look forward to it. long weekends for our members.
Superhost Writer-Director Brandon Christensen:
"I'm incredibly excited for horror fans to find out about my latest Superhost movie on Shudder. Superhost will stay with you long after the credits roll and make you rethink staying in a complete stranger's house.
In Superhost, travel vloggers Teddy (Osric Chau: Supernatural) and Claire (Sara Canning: Nancy drew) share their experiences in and around vacation homes with their subscribers while maintaining a moderate level of internet awareness. When their subscriber numbers start to dwindle, they turn to creating viral content around their most recent host, Rebecca (Gracie Gillam: Country Z). With all eyes on their "superhost," Rebecca, they slowly begin to realize that something is wrong and as they dig deeper, they uncover a horrific truth.
Written and directed by Christensen, the film stars Chau, Canning, Gillam and Barbara Crampton (Jacob's wife 2021 – read our review here) Superhost is produced by Kurtis David Harder (Spiral), Christensen and Chau. Chris Scordo, Darren Sivertsen, Ty Sivertsen, Jon Robinson and Rob Preston are the executive producers.
Superhost will premiere on Saturday August 14th at Popcorn Frights in Fort Lauderdale, Florida
Superhost lands in Shudder on September 2. Check out the trailer below!
ABOUT SHUDDER
AMC Networks' Shudder is a premium streaming video service, super-servant members with the best selection of genre entertainment, spanning horror, thrillers and the supernatural. Shudder's growing library of movies, TV series and originals are available on most streaming devices in the US, Canada, UK, Ireland, Germany, Australia and New Zealand . For a 7-day risk-free trial, visit www.shudder.com.
As per usual, Shudder continues to bring awesomeness to their platform. I can't wait to check them out. And you? Let us know in the comments! Stay tuned to PopHorror for all your news, reviews, interviews and more!